Robust
The rigid design of the tool provides unbeatable stability during heavy cuts.
Versatile
The lack of need for a pilot during cutting sets the sky as the limit.
Precise
Everey component throughout the tool is designed with precision in mind.
Modern support
New to valve seat cutting?
No problem, we are here for you!
Wether you are a beginner or an expert we providethe proper support.
PDF User Manual
After purchasing the WM360 you will get access to downloading the PDF user manual, which contains a quick start guide along with some useful tips and tricks.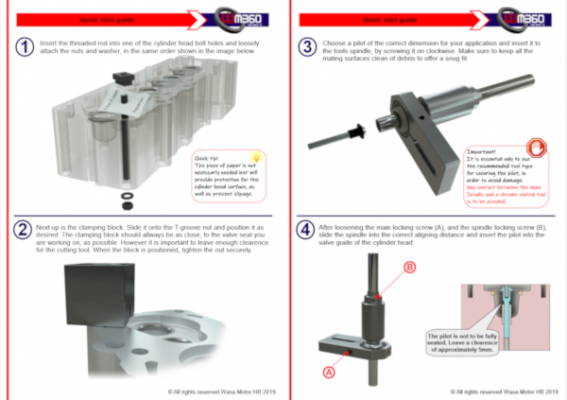 Youtube Channel
We are well aware some of you prefer to watch a video instead of reading the manual. Welcome to our channel on Youtube, where you will find videos that show the WM360 in action.
We are also in the making of a series short clips with quick tips for the use of the tool. These tips will also include some new ways to use the WM360 in applications you might not yet have thought of.
Ask us directly
Of course you can always reach out to us directly via phone, email or facebook. We are engine rebuilders and use the tool ourselves, which enables us to give you the proper support you are looking for.
Email: info@wasamotor.com
Phone: +46-302-23455
Facebook: Wasa-Motor
Surface finish
Renewing worn valve seats
Our special chatter reducing tool holders, provides that superb Surface finish you are looking for when cutting the angles of your valve seats, during a Engine rebuild.
Heavy duty
Replacing valve seats
The WM360 v2 is a very robust tool, making it perfect for heavy cuts when installing new valve seats.
One tool to rule them all
Versatility
WM360 v2 is designed to be the only tool you will ever need for all your valve seat repairs and modifications. The standard tool holder offers a very wide adjusting range and most valve angles on the market are covered. For really extreme angles there is even an angled clamping block available.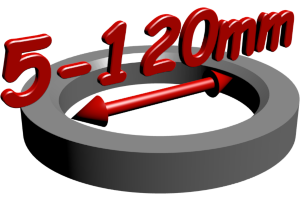 Diameter range
With original tooling provided in the standard kit 20-75mm.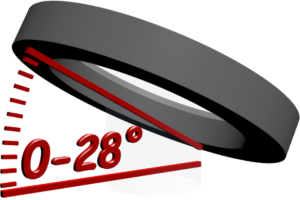 Valve angle
Can be altered even more with an angled clamping block.
Valve Guide Range
A wider span is available with custom pilots.
Tech specs
Specifications
Included in the standard kit
1x WM360 v2 Valve seat cutting tool
2x Valve guide pilot (Dimensions by your choosing)
1x 3-angle cutting bit (30°, 45°, 60° 1,8mm)
1x Clamping block flat
1x Clamping bolt 
1x Tool case with two keys
Tools for operating (3x allen key, 1x wrench, 1x toolholder pin)
Downloadable PDF User Manual
Total weight standard kit: 9 kg
Dimensions tool case: 330 x 230 x 90